At Northgate Dental Centre in Burnaby, we provide Invisalign® treatment for patients looking to straighten their smiles.
What is Invisalign®?
Invisalign® uses a series of clear, removable aligners. It is made with 3D computer imaging technology, allowing us to make aligners that are custom-fit to your teeth.
Benefits of Invisalign®
Unlike traditional fixed braces, you can remove your Invisalign® aligners whenever you wish.
The removable aligners mean you can continue to enjoy your favourite food and drink without the restrictions. You can also brush and floss your teeth as usual. Potentially shorter treatment time than traditional braces.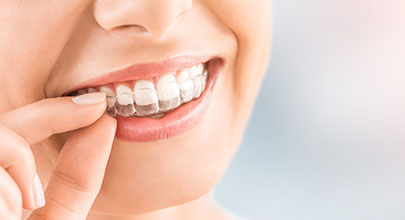 How does Invisalign® work?
Once we determine whether you are a candidate for Invisalign®, we'll take impressions of your smile. Invisalign® 3D imaging software will then be used to create a series of aligners. 
You'll wear each aligner in the series for approximately two weeks before moving on to the next aligner. 
Additional Benefits of Invisalign®
Invisalign® Aligners are Clear
Since the aligners are clear, people may not even notice you are wearing them.
Invisalign® is Removable
You have the flexibility to eat and drink what you want during treatment simply by removing the aligners when you eat.
You can also remove the aligners to brush and floss as you normally would for fresh breath and good oral hygiene.
No Metal Brackets
Invisalign® does not use metal brackets or wires and you'll spend less time in the doctor's chair.
See Virtual Results
Invisalign® allows you to view your virtual results and treatment plan before you start your treatment, so you can preview how your teeth will look once your treatment is complete.